If you're planning a trip to Oban, hiring a car can be an excellent way to explore the area.
With so much to see and do whilst visiting this gorgeous coastal town, hiring a car gives you the freedom to create your own itinerary and explore at your own pace. Fortunately, there are several car hire companies in Oban that offer a range of vehicles to suit your needs.
Hiring a car in Oban allows you to explore the stunning scenery of the Scottish West Coast. From the rugged coastline to the pituresque beaches, there's no shortage of natural beauty to discover.
Below, we've created a comprehensive guide surrounding car hire in Oban, to ensure you're fully informed before your trip.
List of Oban Car Hire Providers
Oban is visited by thousands of people every year, so it makes sense that there are a wide range of car hire businesses to choose from.
We've listed below some of the most popular car hire places in Oban, saving you the hassle of searching around!
Located in the heart of Oban, Flit Self Drive offers car, minibus, and van hire and they have the highest ratings of any vehicle hire company in Oban, with over 50 five-star reviews on their Google profile!
With a huge range of vehicles to choose from, Hazelbank Motors is another great option car or van hire while visiting Oban
Hazelbank Motor's prices start from £50 per day, or £300 per week and they're located on Lynn Road – just a short walk from the town centre.
According to their website, you can request any vehicle of your choice to hire.
Practical Car & Van Rental
Practical Car & Van Rental have over 170 locations across the UK and Ireland. Their Oban branch can be found on Dunollie Road, which is about a 15 minute walk from the train station.
As you would expect from a nationwide company, their fleet is extensive and affordable, providing lots of choice for car or van hire.
However, it's worth noting that their offices are closed on Wednesday, Saturday, and Sunday.
What to Consider When Hiring a Car
Here are a few things to keep in mind when it comes to car hire in Oban:
In the UK, the minimum age for renting a car is 21. However, some car hire companies may require you to be at least 25 .
Drivers under the age of 25 may be subject to a young driver surcharge so It's important to contact the hire company and check the age requirements and potential surcharges before booking anything.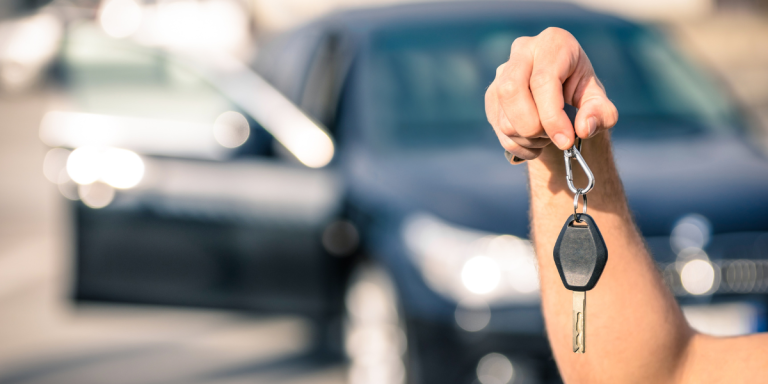 There is usually a variety of vehicles to choose from, such as small 3-door cars, family cars, and vans.
The type of car you choose will be dependant on your specific needs and the number of people travelling with you. Small cars are ideal for solo travellers or couples, while families or groups may prefer a larger vehicle.
Often, the smaller type of car you choose, the cheaper it will be.
In addition to the rental cost and insurance, there may be additional fees associated with hiring a car. These can include fuel charges, additional driver fees, and late return fees.
It's important to read the rental agreement carefully and ask the car hire company about any additional fees before you sign the agreement.
Car rental periods in Oban can vary from hours to several weeks, so you should choose a rental period that suits your needs and allows you to explore the area without feeling rushed.
Generally speaking, some car hire companies may offer discounts for longer rental periods, so it's worth checking with them before you book!
Car hire companies in the UK typically offer two types of insurance: collision damage waiver (CDW) and theft protection.
CDW covers damages to the rental car in the event of an accident, while theft protection covers the cost of the car if it is stolen.
It's important to understand what is and isn't covered by your insurance policy before you sign the rental agreement so make sure to discuss this with the company prior to hiring.
When it comes to hiring a car in Oban, choosing the right one is important to ensure a comfortable and safe journey.
Here are some factors to consider when selecting a car:
The size of the car you choose will depend on your needs and the number of people travelling with you.
If you're travelling alone or with one other person, a small car like a hatchback or a compact car would be more suitable. However, if you're travelling with a family or a group of friends, you might need a larger car like an SUV or a people carrier.
Before deciding, ask the hire company if you can see the vehicle first to help gain a better understanding of the car.
Fuel efficiency is an important factor for customers to consider when hiring a car. Opting for a car with good fuel efficiency will help you save money on fuel costs.
Hybrid and electric cars are becoming increasingly popular due to their low fuel consumption and minimal environmental impact; however, you should bear in mind that you will have limited miles available if travelling around the Highlands and Islands.
Different cars come with different features, so it's important to choose a car with the features you need. For example, if you're travelling with children, you might want a car with a DVD player or a built-in navigation system.
Other features to consider include air conditioning, cruise control, and Bluetooth connectivity.
Finally, price is an important consideration when hiring a car. You'll need to balance your budget with your needs to find the right car for you.
Keep in mind that the price of the car will depend on the size, features, and rental period.
Picking Up Your Hire Car: What to Remember
When you pick up your hire car, make sure you have all the necessary documentation with you.
To ensure you don't face any issues, here are some things to remember when picking up your hire car:
This includes your driving licence and a credit/debit card. Most car hire companies will require a credit/debit card for security reasons and to cover any damages or fines.
Before you accept the vehicle, inspect the car thoroughly for any damage or scratches.
Take pictures or videos of any pre-existing damage and make sure it is noted on the rental agreement. This will help protect you from any disputes or charges when you return the car.
Reviewing the Terms & Conditions
Make sure you understand the terms and conditions of the rental agreement. This includes the rental period, mileage limits, fuel policy, and any additional charges or fees.
If you have any questions or concerns, make sure you ask the rental agent before you sign the agreement.
What to Do Around Oban With Your Hire Car
Now you know where to hire a car in Oban, what considerations to make, and what to remember, we'll discuss some popular activities, destinations, and renowned tourist destinations to visit while exploring the West Coast of Scotland.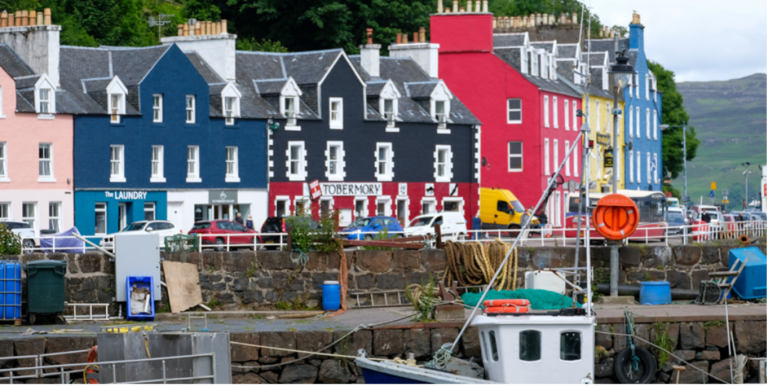 With your hire car, you can explore some of the most beautiful locations the Scottish West Coast has to offer. Oban is known as the 'Gateway to the Islands' due to its coastal setting and ferry port, connecting local individuals and tourists to the surrounding islands.
With a car, there is no need for airports or flying. You can board the ferry from Oban, which offers regular trips to ten different ports, including Mull, Tiree, and Coll. However, please remember that booking a ferry in advance when travelling with a car is essential as spaces are more limited for vehicles.
Fortunately, it's highly recommended for visitors to have their own vehicle while visiting these islands, due to their rural nature.
Oban has a wealth of local attractions to explore. Some only require a short walk from the town centre, such as the Oban Distillery or McCaig's Tower.
However, many local points of interest are best reached via car. These include Dunollie Museum, Dog Stone, and one of the amazing beaches that surround our town.
Choosing to hire a car ensures you can visit Oban's local attractions in your own time.
Once you have picked up your hire car, you are free to explore Oban and the surrounding area at your own pace. Whether you want to visit the islands, local Oban attractions, or travel into the Scottish Highlands, you're free to do so!
If you're looking for somewhere to stay in Oban while you explore, have a look at our luxury seaside hotel by clicking here.